Risorse per imparare l'inglese dall'¸Û°Äͼ¿â
Ìı
¸Û°Äͼ¿â organizza corsi rapidi estivi di inglese a FirenzeÌıin un ambiente accogliente e coinvolgente che facilita l'apprendimento.
Ìı
In poco tempo sarai in grado di affrontare qualsiasi situazione, sia in ambito quotidiano che professionale.
Ìı
Ìı
Ìı
Tutti i livelli e a tutte le ore - Piccoli gruppi- Max. 4 partecipanti - 3 oppure 6 ore settimanali - 4 livelli da Elementare a Superiore – Insegnanti madrelingua -
Metodo 'comunicativo' di conversazione – Certificato di frequenza

Ìı
Ìı
Weekend for you! ÌıOgni settimana l'Istituto mette a disposizione degli student iscritti ai corsi (gruppo e individuali) un insegnante per recupero di lezioni, correzioni or conversazione organizzate per livello.
Questa raccolta di risorse gratuite per imparare l'inglese è stata sviluppata per aiutarvi nello studio dell'aspetto della lingua inglese colloquiale che vi interessa maggiormente al momento. Perfezionare il proprio inglese ogni giorno è il metodo più efficace per impararlo.
Una guida completa alla grammatica e all'utilizzo della lingua inglese, con spiegazioni ed esempi chiari e dettagliati per ciascuna regola.
Una raccolta dei più comuni proverbi ed espressioni idiomatiche con definizioni di ciascuna.
Con gli elenchi del vocabolario inglese, ordinati a seconda della frequenza di parole, sarete in grado di imparare le parole più comuni in primo luogo.
Citazioni celebri in inglese, citazioni sulla lingua inglese e citazioni motivanti per gli studenti di inglese.
È importante verificare il proprio livello d'inglese durante il processo di apprendimento. Questo test d'inglese vi permetterà di valutare il vostro livello.
I nomi e i cognomi inglesi più comuni, sia che desideriate scegliere un nome in inglese per voi o per pura curiosità .
Each month follow this page to improve your English with exciting resources!
Ìı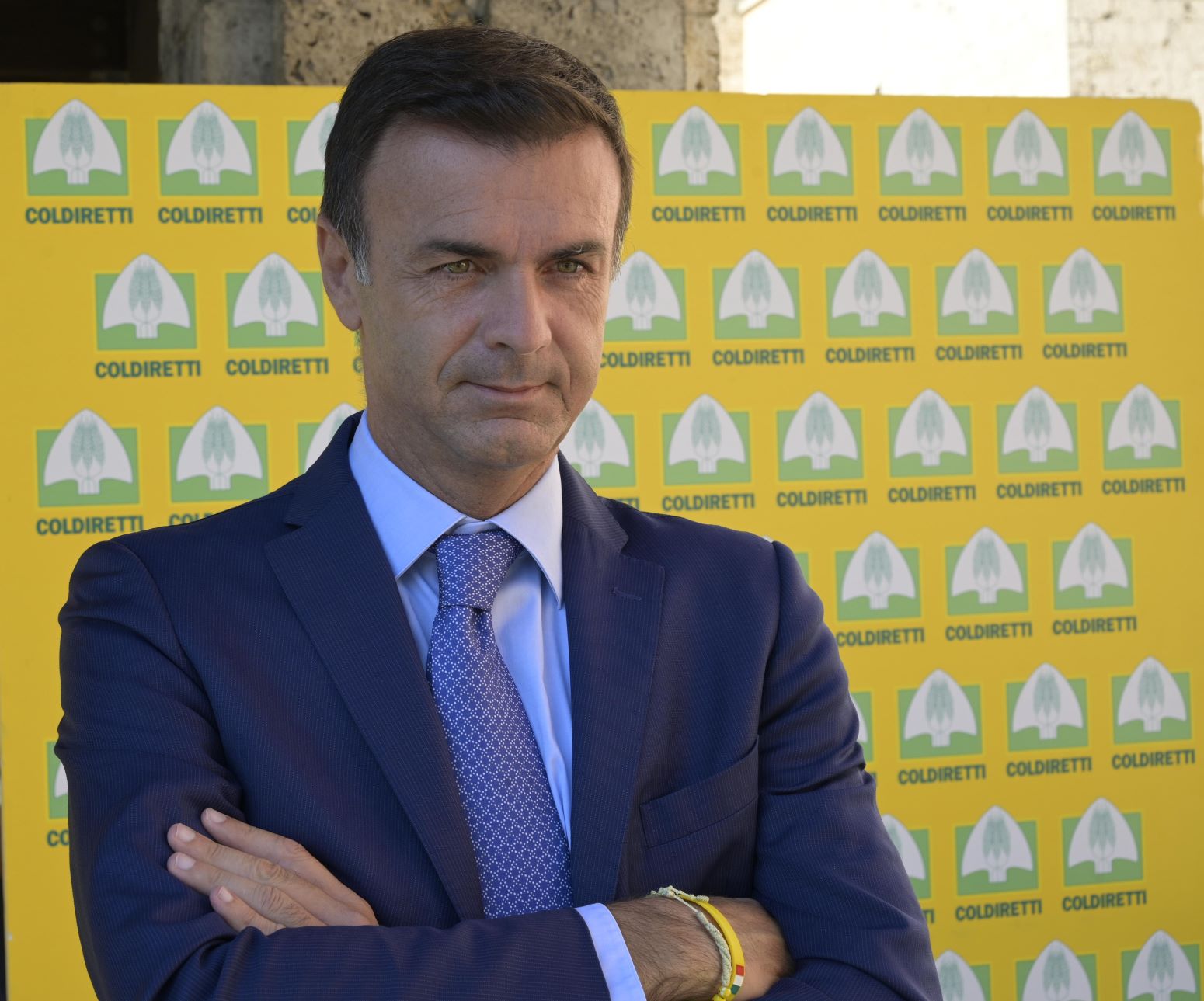 Ettore Prandini, president of Coldiretti (Photo courtesy of Coldiretti)
Have you ever heard of "Asiago Cheese"or "Pomarola"?ÌıHave you come acrossÌı"Parmesan" or a "San Daniele Ham" produced in Canada at the supermarket? Do you usually toast with "Prosek" or pour yourself a glass of Chianti made in California?Ìı
Italy is art, culture, landscapes, but alsoÌıculinary excellences,Ìıbecause our country has always been synonymous with eating well and, of course, with the Mediterranean diet, on which our cuisine is based, and that has been a cultural heritage of humanity since 2010.Ìı
In recent weeks,ÌıItalian cuisineÌıalso became a UNESCO candidate, not only because its dishes and foods crossed generations and defined territories, but also because, as Minister for CultureÌıGennaro SangiulianoÌısaid, they are "the very essence of Italy's lifestyle and quality of living." Our cuisine is an experiential heritage that "represents an added value for our nation,"ÌıFrancesco Lollobrigida, Italy's minister for agriculture, added. Italian cuisine is not simply food or a recipe book, it's a set of social practices, habits, and actions that make preparing and consuming a meal a moment of sharing and conviviality. It is a ritual and a pleasure, but it is also a strong, identity-forming cultural element; it is products that mirror a territory; it is synonym with a highly controlled food supply chain. And once it gets in our pots and pans, it is an expression of national creativity.Ìı
But theÌıagri-foodÌısector is also anÌıeconomic asset.Ìı
In 2022, Italian agri-food exports reached a record high of 60.7 billion euros (68.1 billion USD). TheÌıUnited StatesÌıconsumed Italian products for 6.6 billion euros (7.4 billion USD), registering an 18% increase over the previous year; they come second only to Germany, our primary market when it comes to food (9.4 billion euros, or 10.6 billion USD), and ahead of France, which last year purchased 6.5 billion euros worth of Italian food and drinks (7.3 billion USD).Ìı
Food accounts for almost a quarter of the national GDP and involves 4 million workers in 740,000 farms, 70,000 food-making businesses, over 330,000 restaurants, 230,000 retail points, and 10,000 farmers selling directly to customers, from farm to table.
But both our cultural heritage and our economy are under attack. Serving a plate of pasta using bacon instead ofÌıguancialeÌı(pork jowl) and "Romano Cheese" made with cow's milk instead ofÌıPecorino RomanoÌı(which, as the name suggests, is made with sheep's milk), it's not making carbonara. If you put Wisconsin mozzarella on a pizza, you're not eating a Neapolitan Margherita. And there is no such thing as "Fontiago" in Italy, an improbable mix of Asiago and Fontina. It's not about being purists or fussy but aboutÌıprotecting our Made in Italy.ÌıUltimately, it's also about not being deceived.
And there is more, because fake, industrially-made products lack the history, flavors, and aromas of a region, and their quality is not certified. They are a poor copy made in places thousands of miles away from the fields, cheese factories, and cellars where authentic products are born.
Italian-Sounding is a fraud,Ìıthere is nothing more to say. Using images like the David or the Colosseum, theÌıTricolore,Ìıgeographical landmarks, or names evocative of Italy to market products that are not made in Italy is a scam against consumers. Not to mention that it takes more than 120 billion euros (around 135 billion USD) away from the Italian economy every year, twice the turnover of genuine product exports. And exports would triple without food counterfeiting.
It is estimated that in the United States, fake "Made in Italy" products amount to 40 billion euros (44.25 billion USD) and that 90% of Italian-style cheeses are actually made in Wisconsin, California, and New York. These imitations even exceed the production of American cheeses such as Cheddar, Colby, Monterrey, and Jack.Ìı
Ettore Prandini, president of Coldiretti,Ìıthe main Italian and European organization of agricultural entrepreneurs, which counts one and a half million members, spoke toÌıL'Italo-AmericanoÌıabout protecting "Made in Italy" and the future of quality food.Ìı
TheÌıFinancial TimesÌıhas recently published an article attacking Italian cuisine, including one of its most iconic products: real Parmigiano, which, it is claimed, is actually from Wisconsin. How do you respond to this?Ìı
Attacking a symbol of "Made in Italy" agri-food products like Parmigiano, one of our most copied excellences, is just surreal. The article presents a rather fanciful reconstruction of one of our country's symbols, an attack that came at the very moment Italian cuisine put forward its candidature with UNESCO. All I can say is that changing the history of our country's cuisine isn't that simple. BecauseÌıla cucina ItalianaÌıcomes from the agriculture, food traditions, and culture of thousands of Italian municipalities. There is so much love for Italy in the world, and it truly starts with food. Perhaps it is precisely this yearning for Italian agri-food that led to the proliferation of so many fakes, today worth 120 billion euros on global markets, twice as much as our exports. And so, fertile ground is created for odd historical reconstructions, like the one published in an authoritative newspaper like the Financial Times.Ìı
In that interview, entitled "Everything I, an Italian, thought I knew about Italian food is wrong," food historian Alberto Grandi dismisses the classics of Italian cuisine, saying that Italy built its historical culinary tradition on foods that are, in fact, modern. Is this mere provocation, or can it cause true damage?Ìı
How can such a theory be supported? Of course, one can get visibility in newspapers, and notoriety, but on what basis? One can state anything, even that the Earth doesn't move. But facts speak for themselves. Let's start with Parmigiano, the king of cheeses. It is made through the skilled processing of milk produced according to specific regulations. It is indissolubly tied to the pastures of certain territories of Italy. Its true history dates back to the Middle Ages, in particular to the Benedictine and Cistercian monks who wanted a cheese that could keep well over time. Its commercialization started around 1200. This is documented history, but it doesn't make the news. What makes the news is that Parmigiano Reggiano is on the list of the most counterfeited of our products: Italy is attacked by agri-piracy. Coldiretti has been calling this out for years, and on several occasions, we showed some of these culinary "horrors" from around the world, from fake Parmigiano to cold cuts, pasta, and olive oil. Products that sport the Italian flag or a reference to geographical landmarks like Vesuvius for tomato sauces.
Italy is known for its good food and wine, but behind each product, there is a culture and a territory. When you buy Italian, you are essentially purchasing a piece of tradition. This is the key to the success of the Made in Italy brand, which is loved around the world. Italian food is not just the sum of products made by our agricultural and food companies; it is much more. It is the story of the product itself, its production process, and what it represents for the territories it comes from. It is closely tied to the landscape, to monuments, literature, and art. Coldiretti is leading the charge to protect this heritage. We do this in ourÌıCampagna AmicaÌımarkets, where a relationship of trust is created between farmers, who sell their products directly, and consumers. This network has become a global community. That's why we stress the importance of mandatory labeling of food products indicating the origin of the raw materials used. We also need stricter controls, which our Ministry of Agriculture is already carrying out, even online. However, we also need a unified approach throughout the European Union, where the road to mandatory transparent labeling is still difficult.
Ìı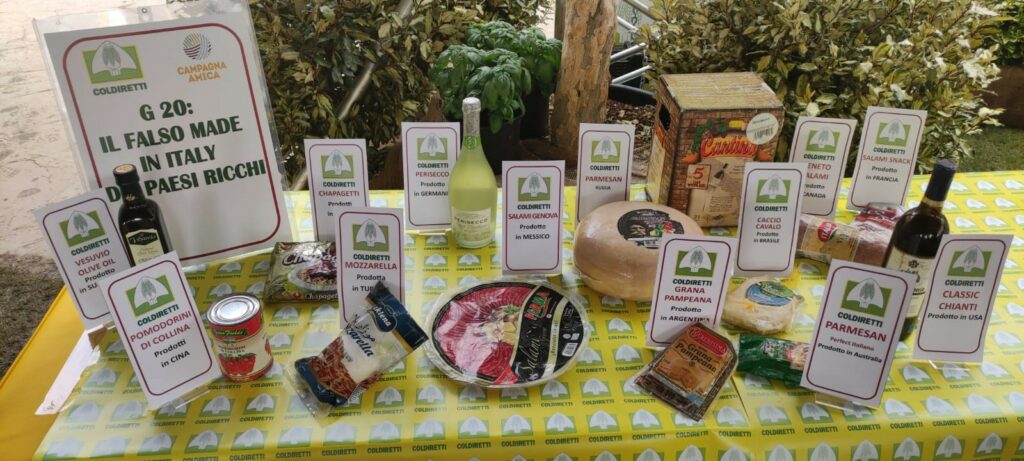 Fake Made in Italy products from all over the world (Photo courtesy of Coldiretti)
Mozzarella is the most popular cheese in America, and Wisconsin produces more of it than anywhere else: 450,000 tons. It usually ends up on top of another American favorite: pizza. Can we compete with such a market?
Competing with a generic soft cheese called mozzarella in a market like the United States is impossible. Italy cannot do it based on quantity, it can only lose. Keep in mind that our largest companies are small compared to global giants, even in the food industry. Quality is where Italy has always been and will always be a winner. The same applies to pizza, which in our country is a triumph of flavors thanks to the ingredients used and the art of pizza-making. Let's not forget that the art of NeapolitanÌıpizzaiuoliÌıis an intangible heritage of UNESCO.
Should we perhaps launch a campaign to link the name "mozzarella" to Italy?
As I mentioned, the effort should be directed toward protecting quality. We have a great protected product in the form of buffalo mozzarella (mozzarella di bufala DOP). Furthermore, many industries in our country chose to use national milk: that's stated on labels, and it's an added value. Again, we need to expand designations as much as possible. We are absolutely in favor of internationalization, but in the free trade agreements that the EU has signed or is signing with non-EU countries, we believe it is essential to make protections stronger.Ìı
The Italian agri-food export industry reached record numbers, but it could achieve even more if it weren't for Italian-Sounding products, which steal shares of the market. How can we fight against food counterfeiting, which often also means unhealthy products?
In 2022, Italian agri-food exports reached a record figure of 60 billion euros, and the first few months of this year confirm a clearly positive trend. Are we satisfied? The answer is no. Italy has the potential to produce more and, consequently, sell more internationally. It's an ambitious goal, but achievable. We need to increase production, but we also need to be able to bring our products to markets. We suffer from a logistic gap that has caused us to lose positions compared to our competitors. For example, we do not have distribution structures that can adequately deliver the Made in Italy brand around the world. However, a large investment plan has been launched in Italy, which includes significant interventions for the development of transportation networks, such as railways, airports, and ports. The sea is a route we still need to fully use.
We believe that a policy to protect our agriculture, along with a strong infrastructure strategy, can help us fight against the fakes, worth over 120 billion euros, that have been invading tables worldwide. This way, we should manage to eliminate "monster" products that deceive consumers, such as Brazilian Parmesao or Argentine Reggianito, all the way to American Parmesan. There are also numerous cloned cold cuts, from Parma to San Daniele, but also Mortadella Bologna or salame cacciatore, extra virgin olive oil, or preserves such as San Marzano tomatoes. Among the "food horrors," we can also find wines, from Chianti to Prosecco, which is not only the first DOP wine in production value but also the most copied.
Tradition and quality are also under attack because of new trends. Do you think that insect flour represents a problem, a risk, or an opportunity?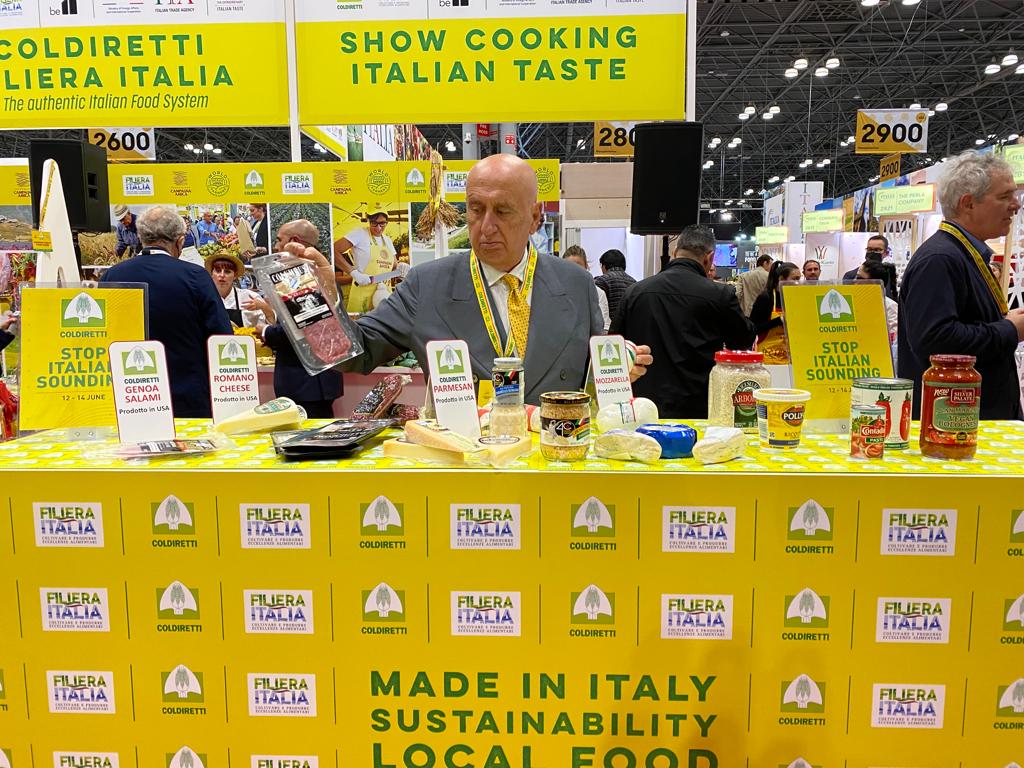 Gesmundo shows some of the many counterfeit products that claim to be made in Italy (Photo courtesy of Coldiretti)
Insects and flour are not part of the Italian food culture, but the European Union has authorized four of these "novel foods." it's part of globalization. But we believe they will not become popular in our market. Perhaps, in the first phase, someone will be induced to try pizza and cookies made with cricket or worm flour out of curiosity. But frankly, these products are not a risk for our beloved Mediterranean diet. We are satisfied with the choice made by our government to impose transparency: a legislative measure requires to indicate on products' labels the presence of these flours. Also, they must be displayed on dedicated shelves. People are free to eat what they want but without any deception. It's the same principle we have applied to pasta or cold cuts. There's nothing against foreign raw materials, but it's essential to avoid a subtle nationalization. Those who buy on national or foreign markets must know what's inside the products they put on their tables.
What about synthetic meat?
Synthetic meat is a completely different story. Coldiretti itself shed light on a business that was growing in silence – and that's something suspicious in itself already. We are talking about products that are still natural, like insects, but about foods made in a laboratory. I wouldn't even call them food, they are more like medicines because the processes involved are similar to those used to make drugs. We have been warning about the health risks to consumers for two years. And the government has recently passed a measure that prohibits the production, marketing, and import of synthetic meats, milk, cheese, and fish in our country. The synthetic meat business is based on investments made by a handful of billionaires, already in charge of both the hi-tech and pharmaceutical sectors worldwide, so there isn't only the risk of damaging the Italian and European food systems, but also that of undermining the very democracy of food. Concentrating such a precious matter in the hands of a few can really lead to catastrophic scenarios. We have collected over half a million signatures, and many municipalities and regions have joined our battle. But in recent days, a report by the FAO and WHO shed some more light on the issue. And conclusions are not encouraging: 53 potential health risks are coming from the consumption of synthetic foods, or as the study defines them, "cell-based foods." The document highlights issues ranging from allergies to cancer. With lab-grown foods, diseases, and infections could be transmitted, and the risk of contamination is high. And then there's hormones, the use of which, I would like to underline, has been banned in Europe for years. The research continues, but we see no reason to allow these products in Italy and the European Union. All in the name of a type of sustainability that is, pardon the wordplay, not sustainable at all because synthetic food is industrially made. Even saying that lab-made food would help solve the world hunger emergency doesn't hold up, as we know it is mainly a problem of waste and distribution. "I don't think the 80 poorest countries in the world will ever be able to eat cultivated meat, whose production techniques are rather expensive," Bill Gates himself said. We know, however, that this will be a tough battle because of the billions of dollars at stake. But Coldiretti has only one line of action: protecting research, but only the kind that supports agriculture and our food industry and offers the highest guarantees to consumers. Certainly not the kind aiming at destructing the most balanced diet in the world.Ìı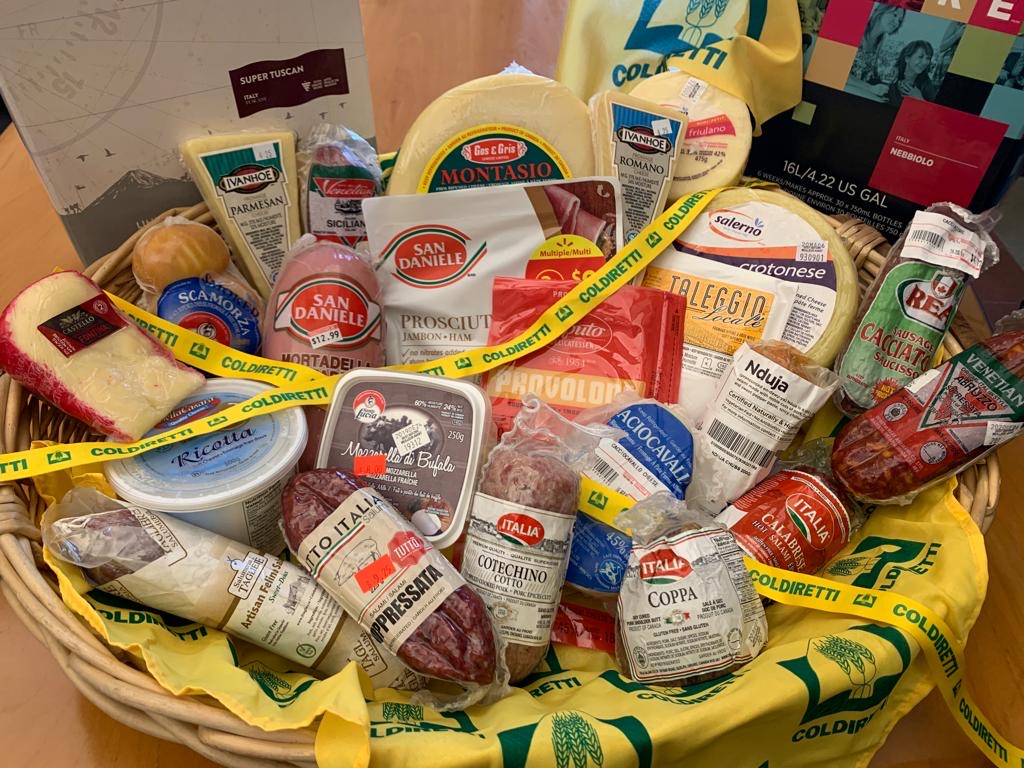 Cheeses and cold cuts are among the most copied made in Italy products, according to Coldiretti (Photo courtesy of Coldiretti)
According to the Vinitaly data, Italy's wine industry seems to keep growing on international markets. The United States, with Napa Valley, is now a very established and competitive reality. How can we defend and promote our wine productions in the USA?
Let's return to the beauties of our country and the world with wine. Italian wine gained popularity in the United States. 2022 was a golden year for national wine exports, with over 8 billion euros earned internationally. The US is among our best buyers, but we need to do even more. That's why we opposed the European Commission's choice to cut financial incentives for wine promotion. We need to be increasingly present on markets around the world, and the American market is certainly one of the best for our producers.Ìı
To Italians in America who want to eat Italian, what do you say?
Just one message: don't compromise on such a symbol of your country. Eating Italian contributes to your quality of life, so why settle for satisfying only the eyes, attracted by colors and images that evoke the Belpaese, but renounce authenticity?